Neeta – Chennai Dream Homes
Neeta (Sujata Durai) has over 25 years combined experience running businesses of various sizes and in different industries. In her current stint as a real estate broker and owner/partner of Chennai Dream Homes, she has established herself as an authority in the South Chennai property market, and has helped scores of families and corporate clients in their residental, commercial and rental needs.
Neeta provides a level of service that is unmatched in today's industry. She listens to her clients while creating a memorable and enjoyable experience.
Neeta goes beyond closing deals. Her professional goal is to establish long term relationships with her clients. At Chennai Dream Homes, she manages a small, tight-knit team who assist clients with all of their real estate and marketing needs. Her commitment to personalized advice, integrity, and strong work ethic has earned her the admiration of many clients.
She was the the first woman registered real estate agent member of CREAA (Chennai Real Estate Agents Association) and was named by Housing.com as one of the rising stars as a woman real estate professional on Women's day in 2016. She is also a member of NAR-India (National Association of Realtors – India) and now registered with the TNRERA (Real Estate Regulation Authority).
Neeta & Saravanan are now TNRERA registered Real Estate Agents!
Registration Numbers: TN/29/Agent/0015/2017 and TN/29/Agent/0021/2017. So, now you can contact us hassle free to represent you in your property transactions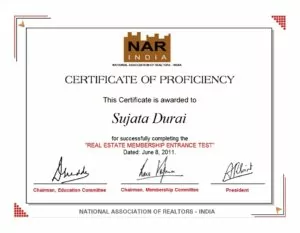 Contact Neeta using the form above now!