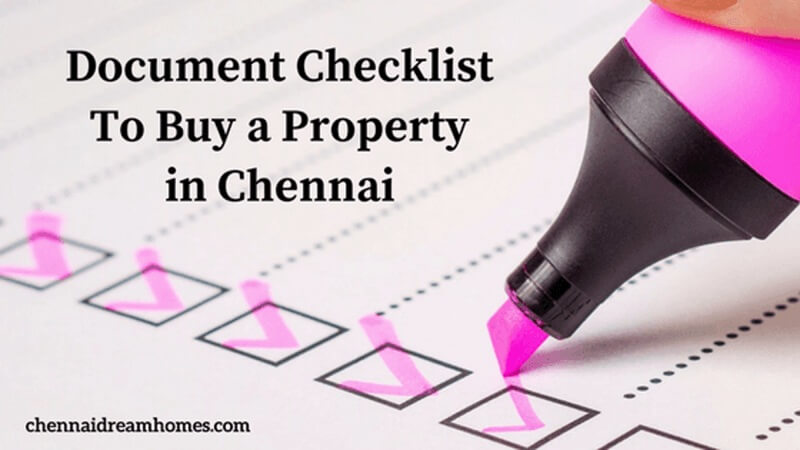 The Ultimate Document Checklist To Buy a Property in Chennai
Checklist before buying a Flat / Property
Are you intimidated by the Home Buying process and looking for some guidance in the form of a checklist before buying a flat/property in Chennai? A real estate transaction is not exactly a cakewalk for most people.
It involves:
a big sum of money
time and effort in coordinating with multiple parties, professionals and government offices
documentation and legal aspects involved in transferring ownership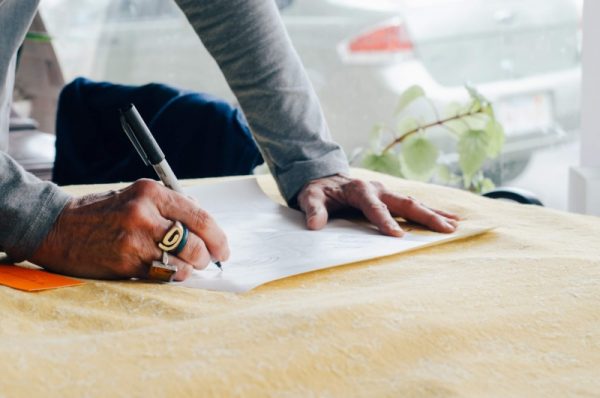 To avoid any legal hassles and proceed with a smooth home buying experience, we have included a Checklist before buying a Flat and listed all possible documents to check and vet with your lawyer, before you sign on the dotted line and take possession of your new home.
Feel free to print out this page as a PDF and use it throughout your home buying journey.
Part 1 – Basic Checklist before Buying a Flat / Property:
Check Past / Completed projects of the Builder
After Sales & Service quality of the builder
How helpful is the team after handover?
How many Banks & Financial institutions have tied up with the builder / approved the project for financing?
Is the final cost sheet clear with all extra costs disclosed?
What is the Refund policy of the Booking/Advance amount?
2. For each Home/Project seen:
Check the Ceiling heights, Air Circulation and Ventilation from windows across the house
The kinds of views from windows
You want to avoid noisy construction sites nearby or slum dwellings. Are there any buildings blocking light or views?
Storage space including balcony space for clothes drying, service and utility areas (if important)
Storage space including balcony space for clothes drying, service and utility areas (if important)
Clarify the actual size (liveable) area of the house.
Check the efficiency of this carpet area to the super built up area of the flat, know what you're paying for. SBA includes staircase, lifts, lobbies and other common areas.
Copies of the home's floor plans
Check the Size of the rooms, layout and future needs (will you need an extra bedroom for an elderly parent or a kid)
Specifications document
Check the wall, floor & ceiling finishes, fixtures, accessories, appliances or furnishings if any.
Is the Property in good condition?
Check the construction quality: paint finishes, cracks on the walls, wiring/switches used, tile fittings, etc.
Details of all extra charges available?
Maintenance, Clubhouse, PLC charges, utility charges, car park, infrastructure fees, stamp duty, Taxes like GST, Registration fees, and
other charges
.
Choose the right payment plan wisely
For example, subvention schemes are not necessarily cheaper than construction linked plans in the long run
Are basic amenities being offered?
3. For each property's location you have visited:
Is it convenient to access bus routes, metro train stations and local cab supply?
This will impact your investment returns as well.
Is it close enough for workplace, school/college, utility stores, recreational shopping & health establishments and help you maintain your current lifestyle?
How is the basic infrastructure in the area?
Water, drainage, power supply, etc.
Is it in a low lying area near a lake which could cause flooding issues?
How are the roads around the property?
Is there a Main road access from 0.5 – 1 km away from the property?
What are the future development plans in the area?
Upcoming metro connectivity, new malls, bridges/flyovers, road widening, etc. especially if it is a suburb such as ECR or OMR. This will affect future resale and rental potential as well.
Is it a generally safe locality?
What are the neighbors like?
How close is it to your friends and family staying in other parts of Chennai?
Part 2 – Document Checklist before buying a Flat / Property in Chennai
Note that not all of these documents may be required/applicable in your case. This is meant to be an exhaustive / general list. Always consult a good property lawyer to guide you.
1. Brand New / Under Construction Properties:
Title Deed
Check for Clear title from the builder which proves that they are the true owner of the property.
Copy of the Sanctioned Building Plan
No Encumbrance Certificate (E.C)
that the property is free from any legal dues, mortgage security or liens.
Builder has got NOCs from local bodies
NOCs from Electricity Board, Water Board, Pollution Board, Airport Authority, Environment Board, Forest Dept, Traffic Control, Society Building, etc. as the case may be
Construction Agreement / Builder Buyer agreement
Read the terms & conditions carefully
Check for Completion Certificate (C.C) or Occupancy Certificate (O.C)
Possession/Allotment letter
Sale Deed
After the deal, don't forget to execute the Sale Deed or delay its registration in your name as the rightful owner. Generally, the Sale Deed is registered along with the UDS after the Construction agreement has been registered.
Absolute Sale Deed in the current seller's name
Mother Deed / Parent Document
This is the main document to be checked for a resale property that traces ownership activity of the property right from the start.
Title Documents in the name of the current seller
Latest Original Bill Receipts to ensure no pending dues by the seller
Property tax, Electricity bill, Water tax & Maintenance bill receipts
Latest Loan statement from the bank for any ongoing loans on the property
Release Certificate from the bank that the entire loan has been paid in full
If the property has been pledged for a bank loan from the seller
No Encumbrance Certificate (E.C)
That the property is free from any legal dues, mortgage security or liens.
Construction Agreement and previous Sale Agreement between the builder and the seller
Sanctioned Building Plan from the builder of the property
NOC from society/association
Power of Attorney/s
Required to know who you're dealing with – the actual seller or a person who has been given the right to sell on the seller's behalf
Insist on copies of the Chain of Documents
Entire histories of agreements related to buying and selling this property to date
3.  Plots / Gated Land:
Measure the land dimensions with a surveyor and get a copy of the FMB sketch (Field Measurement Book) if applicable.
To cross check if the documents have the correct figures from the seller.
Check if the land conversion order is obtained if it was an agricultural land
Local Body approvals for Zoning and the Layout, if applicable
Mutation Documents (Patta, Chitta, Adangal extract, etc.)
Conclusion
No doubt this resource has now made you a smarter buyer in knowing what are the important documents to check before buying a property. After all, a real estate transaction is complex and possibly the second biggest decision in your life after marriage and having a child. It is your responsibility then, to yourself and your family in making sure the correct due diligence is carried out. Remember, without a trusted property advisor at your disposal, it is very easy to fall prey to deception and scamming by builders or even individual house owners, in some cases.
Though we have made every effort to make this Checklist before buying a Flat / Property in Chennai as comprehensive as possible, this is only a general guideline. Whether you're looking to buy a resale property or a new construction home, always enlist the services of a good property lawyer who will vet the correct property documents for you and your unique situation. If you need any references, your real estate agent can easily help you with an excellent recommendation.
References: Economic Times, The Hindu, Live Mint, Business Today.
---
---
Call Neeta / Saravanan today at (+91) 98409 51001 or 98409 51003 to learn more about how Chennai Dream Homes can help.
If you liked this content, then please subscribe to our YouTube Channel for latest property videos and helpful tips on buying and selling. You can also find us on Twitter and Facebook.