About Saravanan:
Saravanan has over 11 years experience at Chennai Dream Homes. In his stint as a real estate broker and partner, he has established himself as a reliable property professional in the South Chennai market, and has helped dozens of families and corporate clients in their residental, commercial and rental needs.
Saravanan listens to his clients, usually going above and beyond in matters such as paperwork, post sale help, etc. while creating a memorable and enjoyable experience. His ability to understand his clients' unique needs, and commitment to integrity, has earned him the admiration of many clients, who prefer to contact the company again for their future real estate needs.
He is a member of :
CREAA (Chennai Real Estate Agents Association)
NAR-India (National Association of Realtors – India)
Registered with TNRERA authority
Neeta & Saravanan are now TNRERA registered Real Estate Agents!
Registration Numbers: TN/29/Agent/0015/2017 and TN/29/Agent/0021/2017. So, now you can contact us hassle free to represent you in your property transactions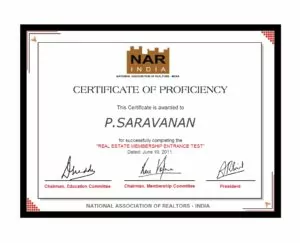 Contact Saravanan using the form above now!