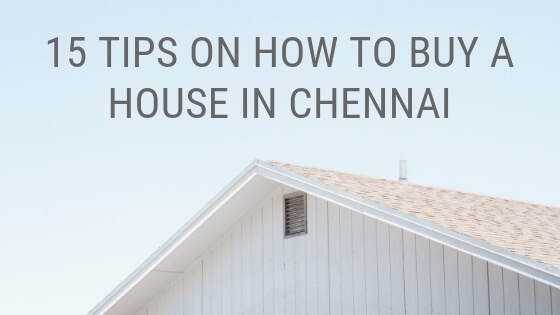 15 Tips on How to Buy House in Chennai
A lot of people who reach out to us at Chennai Dream Homes® are preparing to buy house in Chennai in our local markets – Adyar, Besant Nagar, ECR, OMR, T-Nagar, Mylapore, etc. If you are also thinking of the same, use this handy guide to prepare and plan for your upcoming home purchase.
Related article: The Chennai Home Selling Process: 8 Steps to Sell your Home in 2019
15 Tips on How to Buy House in Chennai for 2020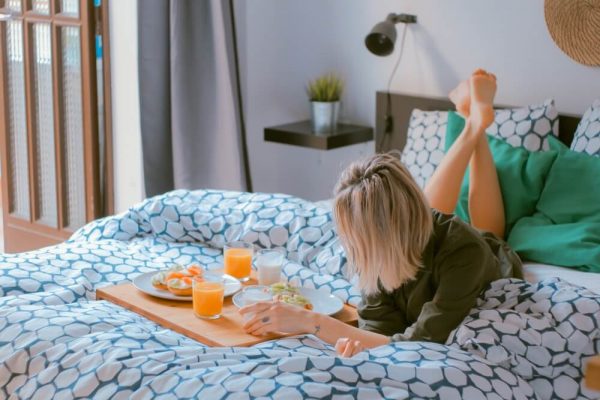 It's not at all rare in real estate for people to keep an eye on the property market for years searching and researching, without making a decision to become serious buyers.
There is a general sense of worry that the money outflow is so huge in such a transaction.
But a BIG MISTAKE that people make, is not buying at all, not realizing that good opportunities are passing them by.
They sit on the fence waiting for a huge fall in home prices or interest rates, renew their rental agreements, and push off their purchase for yet another year.
However, as long as you are financially prepared, chosen a great location to stay, armed with the right prep work, and made some smart choices, real estate can be a great investment to secure your future.
When we ask our clients – "What is the one thing you wish you had done differently?", they consistently answer – "I wish I had found you sooner and bought sooner."
So, have you also been thinking of buying a home but still not gotten any closer to the dream of home ownership? Fret not, because this time of year is perfect for setting goals, making a plan and knowing exactly what to do in order to buy that dream apartment/villa/plot you've been eyeing.
Why is now the best time to buy house in Chennai, you ask?
2017 was a watershed year for the real estate industry, with respect to new:
Regulations that protect the home buyer's interests and curb fly by night operators (developers and unprofessional brokers) such as the RERA Act
Taxation changes with the unified GST regime, aiming to reduce multiple taxation effects
Ways to curb black money in real estate by introducing demonetization
Moreover, it has been a buyer's market since the slowdown started in Indian real estate in the last few years, and prices have already dropped all over India, new launches have reduced and ready to occupy homes are the most popular type of property to buy now.
Prices will remain low with further lowering of home loan interest rates, so if you are in the market to buy, the near future is well poised to be a great time to invest in property or move into your own home.
With some careful preparation and these 16 tips, you and your family could be living in your new home as early as end of this year! 🙂
Part 1 – Decide your Home's Requirements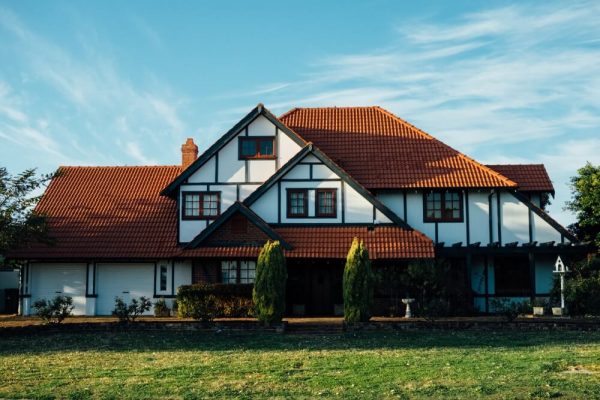 1. Consider your wants v/s needs in a home –
We all want a bigger home.
A larger living area.
An extra study would be nice.
In the most central area of Chennai city.
We all want a lot of things but are they really affordable to us or necessary right now?
Jumping into an independent house when you have jut started a family doesnt make much sense. If Clubhouse amenities are important at this stage – such as Gym, Swimming Pool and grocery store for you and your spouse, and a kid's play area for your child, then opting for a 2 BHK apartment in a gated community could be best.
On the other hand, if this is not your first property purchase and you want to move into a larger more comfortable house for your growing family, then a gated villa or independent villa could work well.
Consider your budget if you have saved up money for your future home, or the amount of home loan you can get to evaluate which options work well for you. There are enough properties on the market now, especially ready to move in ones. This 2 part post walks you through the houses available with the best features and amenities for you.
---
2. Research the general home buying process
Buying a house in Chennai can seem like an arduous process and downright scary to get into, but if you've decided to go in for a new home and you're financially ready, there's no better time than to read up on the general timeline and enlist the help of a real estate agent in Chennai who can represent your interests in a transaction.
Starting with knowing your needs and saving up money for the purchase, you can interview potential agents, and start working with one who is both competent and professional.
Start with narrowing down the homes you like, and set up personalized appointments with your realtor to see these homes on a weekend.
When you've found a few you like, set up meetings with the developer/seller and get your agent's help in negotiating for a fair close.
You will also need to get documentation and legal work done at this time.
Finally, on registration day, you can pay the brokerage fee and receive the keys to your home 🙂
Knowing this whole process from the beginning makes getting into this exciting journey far easier.
---
3. Research the localities you are interested in
This is a simple one. A simple Google search online can yield you some nice average Sq-Ft rates and upcoming infrastructure, or the top property portals have graphs and charts showing price trend analyses.
Be sure to check out areas with facilities and infrastructure that is important to you and your family such as – Public transport/Metro, Workplace offices, Schools, Colleges, Hospitals, Convenience stores and Shopping malls, Restaurants & Entertainment, Beaches and Places of worship.
---
Part 2 – Get your Finances ready and apply for a Home Loan
4. Check your CIBIL credit score
This should be the very first step. Go online to CIBIL's website to start your credit check, or try it free at startups like Bank Bazaar. You will need a score of atleast 700. A score of 750 or higher is the best outcome and will get you the best interest rates on home loans as well. Based on your report, you may need to clean up a few things – stop maxing out your credit card limits (aim to only use upto 30% of your credit limit), ask for a higher credit limit, and start paying all your card bills on time.
5. Pay off other pending loans
A home loan is one of the biggest loans you may take in your lifetime, so it pays to first finish paying off all other liabilities like personal/auto/education loans first. Besides, paying off such earlier loans on time improves your credit history anf makes you a more favorable candidate for banks to approve your home loan.
6. Limit your credit cards
Keep a check on the number of credit cards you own and total spends you make. This is one of the important criteria used by credit rating agencies, so make sure you don't have any penalties and make your payments well on time. Don't fall for the hyped extra discounts and offers and end up getting more credit cards than you actually need.
7. Start saving money
Banks will only usually lend upto 80% of the property's cost and you are responsible to furnish funds for the remaining 20%. Start saving for the Down payment and any other extra expenses that come with buying a home, as soon as possible. A quick tip: Instead of first spending your monthly income on bills and expenses and saving what is left, try to first save 20-30% of your paycheck in a new 'Home Fund' which is set aside for atleast your Down payment, and then use the rest for your monthly expenses. This will give you the discipline to start saving your hard earned money.
8. Stay steady at your job
Most people will need a home loan to finance the purchase, to buy house in Chennai. Banks will also lend only based on your credit history and a stable job/business which is proof that you have the required income to pay off your loan EMIs. Don't change jobs often or make big changes in your career, atleast until you get the home loan.
9. Decide on a Home Budget
Our standard of living has risen greatly over the years as the economy has opened up, but you should still be prudent in deciding a home budget that doesn't add pressure and enables you to comfortably pay off your home loan over possibly a 30 year period. Your general educational and professional background will help you decide a correct amount, so that you not only get the biggest/most comfortable house to live in, but also maintain your current standard of living.
10. Get your home loan documents in order
Banks usually ask for these basic documents so keep them ready at the earliest:
3-4 passport size photos
Photo ID proof (eg. PAN card, Passport,Voter ID or Driving License)
Government issued Address proof (eg. Voter ID, Passport, Driving License)
PAN card
Form 16 (salaried) or the last 3 years Income Tax return (business)
Last 3 months salary slips
Last 6 months Bank statement
Appointment letter
11. Get pre approved for a home loan
Shop around for the best interest rates and approach multiple banks to find out how much home you can realistically afford. Then, you can start your home search process, even online. Start with your preferred bank or get a referral from your agent. Hopefully, if you have followed the steps above in financing planning, your credit history and score is good enough for them to pre-approve you quickly. This one step can really help you be in a favorable posstion during offer meetings or in negotiations with sellers or developers as you can show proof of being a qualified buyer with funds ready to close. Ofcourse, you will need to have arranged ~20% for the Down Payment yourself, as loans will only cover upto 80% of the property's cost.
Part 3 – View Shortlisted Homes, Close, and Move In
12. Research potential real estate agents
If you know a friend, neighbor or family member who is a real estate agent, note that they may or may not be the perfect fit for you. You want someone who is not a newbie, or doing this for a side income, and instead go for someone who is experienced in the markets you are interested in, online savvy and has an excellent track record.
Check their specialties, testimonials from past clients, property types and locations they deal with, along with services provided and their brokerage fees.
Many agents have increased their rates to a minimum 2% from buyers and also insist on signing an agency agreement, so check the fairness of rates against the breadth of services offered to represent you in a real estate transaction.
Sure, you may want to save on the brokerage fees, but in recent times with so much online information and fake listings on portals, it can be difficult to find out what is real, weeding out low quality listings, bad fit sellers or poor projects from developers.
Working with a real estate broker is actually better ROI because s/he will work with you as your partner in getting your dream home, carefully avoiding common issues that arise, while avoiding costly mistakes in terms of a bad home choice, or extra expenses you may have to incur later.
Finally, a good agent also strives to work only with clients who match their target customers, so it's worth working with one who values integrity, time (both yours and theirs) and asks for an introductory phone call or in person meeting before site visits, to see if they are a good for for you. Read more: How to find a Real Estate Agent in Chennai.
13. Understand the quality of homes available
Next, figure out the types and quality of homes available in different projects for your budget during multiple site visits, even if you're not ready to buy yet. Get a general sense of the markets, average rates per sq-ft, and homes available. Your agent is a tremendous source of this vital info.
14. Make an Offer
When you find a great house that meets your needs , move fast and make an offer. Attend multiple meetings with developer sales team (new constructions) or individual sellers (ready to move in properties). Again, your agent will assist you in negotiating for a fair rate.
15. Plan for closing costs
Don't forget to budget for some transaction related expenses like – title checking from a lawyer, documentation and legal charges, maintenance charges, government registration and stamp duty charges, taxes such as GST and and your agent's brokerage fees.
After moving into your new home
After the transaction, plan your move smoothly.
Let your friends and family know your change of address.
Ask your agent for recommendations on modular kitchens, wood work and home appliances to furnish the house. They work with allied businesses regularly and can get you some great deals.
Finally, don't forget to write a review/recommendation/testimonial for your agent. They've acted as an emotional and rational sounding board throughout the journey and worked hard to get you the best home, and will appreciate a detailed testimonial, social media post, Google ratings or referrals from your friends and family!
Summary – To Buy House in Chennai
Buying a house in Chennai can be daunting if you are not well prepared.
Whether you are a first time buyer or a seasoned pro at buying property, each time can be a little different and it pays to know the process and get professional help with such a large transaction.
Ultimately, the decision to buy a home should rest on your own individual situation, financial readiness to afford a property, life stage & career progression, and whether you are committed to own it for atleast a few years.
We hope this article has helped you to mentally understand what it takes to become a new home owner and given you the exact steps to take, starting from now, to buy your home.
Remember to take your time to research properties, options and agents like Chennai Dream Homes™, so that you are confident when you finally decide to embark on this rewarding process of home ownership.
Do you plan to buy a home in 2019? If you have any questions or tips for us, drop us a note in the comments section below!
---
If you liked this content, then please subscribe to our YouTube Channel for latest property videos and helpful tips on buying and selling. You can also find us on Twitter and Facebook.
---